Sign up now, Make more friends, Enjoy with more features, Let you easily Fun Community.
You have to Login for download or view attachment(s). No Account? Register

x

I made the Orc Lord before the LoD map was introduced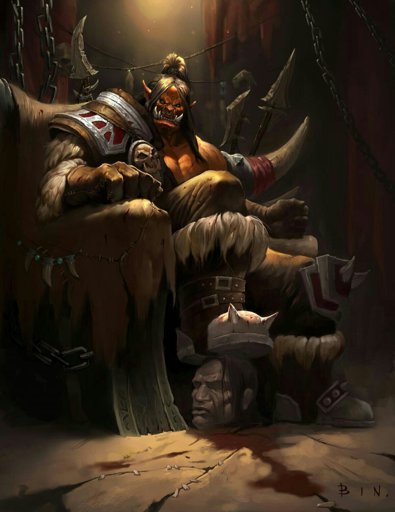 Morgoth
Orc Disaster
[Role]
Tank/Fighter
[Specialties]
Crowd Control/Regen
⚜Background⚜
In the historical records of the Land of Dawn, from the Enchanted Forest to the Crack of the Abyss where the orcs are enslaved, there's usually a great king who rules all the orcs in the area. But after several years later, the great king has passed away and left his people unprotected. Because the great king is gone, the Blood Demon took advantage of it and start enslaving all the orcs in the area. Their great king saw this as a spirit, his anger trembles and he'll never rest until he'll devour all those pesky blood demons into nothingness.
After a few years of the orcs slavery after Balmond is now controlled by Alice, he's still remain restless when seeing all these events, he can only hope that his people will saved from their slaveries. Days later, a mysterious Black Mage doing an experiment about making a revival test on the great king's grave. After chanting those spells, Morgoth has revived from the dead and starts spreading calamity to it's surroundings. The mage is impressed of the revived great king's impressive powers, then the mage experiment him with her Evolution test to make Morgoth become the most powerful than the Blood Demons.
After many test runs, she finally succeed the experiment. But before she knew it, the Abyssal Demons found her and start subdue the mage. When they all came to close to the incubator, Morgoth explodes and start rampaging towards the demons. Morgoth fought fiercely and he became so hungry, so hungry he start feasting all the demon's flesh and blood. After consuming all those demons, he regain more power and struggle for more flesh of those Blood Demon. The Black Mage willingly to help Morgoth to take revenge of the Blood Demons, so she experiment him more so that he became the most powerful demon in the Dark Abyss.
After many experiments, the Black Mage have accomplished her goal to make Morgoth the strongest demon. Morgoth become ten times powerful than his previous powerful after consuming all the demons. After the black mage succeed her goal, she'll leave and bid him farewell to Morgoth and let him do whatever he want. Morgoth thanked her for helping him to become stronger, the Black Mage left and disappeared without a trace, and Morgoth ran towards the Blood demons territory and free all the orcs from their slavery.
Durability 9/10
Offense 6/10
Ability 5/10
Difficulty 4/10
Passive: Gourmet King
Unlike other Blood Orcs, Morgoth devours not just blood but everything in it's path. Killing and eat an enemy hero will gain 10 points of Physical ATK and Armor. Killing and eat a minion will only gain 5 points of Physical ATK and Armor. Taking Allies corpses will recover 10% HP and gain 15 points of Physical ATK and Armor.
1st skill: Cry for Starvation
[AOE][SPEED UP]
(Cooldown: 11/10,5/10/9,5/9/8,5)
(Damage: 200/220/240/260/280/300)
Morgoth cries for hunger, dealing 200 (+60% Total Physical ATK) Physical Damage to the enemies in his surroundings, reduces their movement speed by 50% and make them lose 20 points of Armor and Physical Attack for 3s. And gain 40% movement speed for 5 seconds.
2nd skill: Struggle for Food
[AOE][CROWD CONTROL]
(Cooldown: 5)
(Damage: 100/150/200/250/300/350)
(Duration of the skill: 3)
Morgoth smashes the ground continuously for 3 seconds, each smash deals 100 (+45% Total Physical ATK) Physical Damage and knock the enemies into the air for 0.2 seconds. Morgoth can also still move when he's in this state.
Ultimate: Chaos Eater
[SPEED UP][BUFF]
(Cooldown: 40/35/30)
(Duration: 6/7/8)
Morgoth will enter in Bloodaxe mode, where he can sniff Blood from the entire map. Enemies with 100~80% HP will gain 10% more damage from every hero, enemies with 70~50% will gain 30% more damage and increases his movement speed, even if he's in the other part of the map. 40~20% HP Heroes will take 50% more damage from Morgoth and 30% more damage from other Heroes, and Morgoth will increase his movement speed by 60%. Enemies with 10% hp will instantly die.
Entrance
Let the feast, begin..
Battle
I smell... Blood... ehehe...
Run away from me... and you'll see what will happen to you...
I seek for blood!
Your Blood Is now mine!
You... are not ready for this
My favorite type of enemy... Is a dead enemy...
I'll give you a taste!
Ultimate
LET THE CARNAGE BEGIN!
FASTER, FASTER UHAHAHAHAHA
If Alice is in the enemies team
You'll pay for your SINS!
If Balmond is in the enemy team
I'll save you from your slavery...
If Balmond is in the squad
We shall avange our tribe..
If Pharsa is in the squad:
I shall help you seek your revenge
We have the same enemy!
Death
B-blood... Blood...
I'm, not... done...
Note
The idea of the title "Orc Disaster" was a reference from an anime "That Time I Got Reincarnated as a Slime" where the protagonist fight the Orc Disaster, Geld. The Ult, Chaos Eater, is a also one of the reference from the anime.
this concept was made for a friend in my other website named Balmond. Seriously, his username is Balmond. His website: https://aminoapps.com/c/mobile-l ... oDJZm6NN7lkP3g2JGfR
this concept's ultimate used to be like Barat's Ult later it was changed because Balmond insisted me making him more of a basic attacker than skill reliable