Sign up now, Make more friends, Enjoy with more features, Let you easily Fun Community.
You have to Login for download or view attachment(s). No Account? Register

x

i just realize that i rarely posting any OC hero concepts because i keep focusing on Touhou Hero Concepts. i made these hero concept because i want to make a MOBA based on Touhou project, so most of them will probably just some copyright from MLBB. But since this is ML, maybe i can share this one for the game.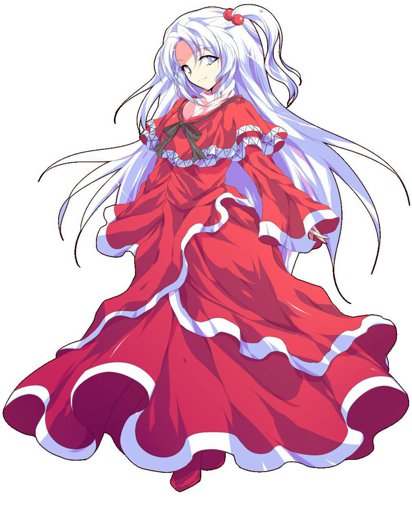 Shinki
Goddess of Makai
[Role]
Fighter
[Specialties]
Crowd Control/Magic Damage
Durability 6/10
Offense 8/10
Ability 8/10
Difficulty 4/10
Passive: Fatal Illusion
Shinki's tired of people stealing her spells, so the next 5 skill damage will deal no damage towards Shinki. This skill has 120 cooldown. Continuous damage counts as one. When one is used, it'll start cooldown. (The passive can be shown on the HP bar below)
1st skill: Might of Heaven "Mega Graviton Wave"
[AOE]
(Cooldown: 5)
(Damage: 200/250/300/350/400)
(Slow: 10%/15%/20%/25%/30%)
Shinki surrounds herself with energy pillars that falls from the sky and deal 200(+120% Total Physical Atk) Magic Damage to enemies around her and inflict 10% slow for 2 seconds.
2nd skill: Mobius World
[CROWD CONTROL]
(Cooldown: 8/7/7/6/6)
(Damage: 180/240/300/360/420)
(2nd damage: 120/180/240/300/360)
Shinki shoots two danmaku both front and back in an oval shape that deals 180(+100% Total Physical Atk) Magic Damage to enemies that hit. After it reach it's maximum distance, it will return back to Shinki that deals 120(+80% Total Physical Atk) Magic Damage to them and stuns them for 1.2 second.
3rd skill: Celestial Force
[BLINK][AOE]
(Cooldown: 9/8/8/7/7)
(Damage: 180/260/340/420/500)
(Laser damage: 80/120/160/200/240)
Shinki blinks to the designated location, dealing 180(+90% Total Physical Atk) Magic Damage and dashing in a specified direction after casting this skill. After a short delay, enemies within the area will be entrap with lasers that deals 80(+60% Total Physical Atk) Magic Damage every 0.45 seconds. This last for 2 seconds.
Ultimate: Holy Makai
[BLINK][BUFF]
(Cooldown: 60/50/40)
(Stat reduction: 10%/20%/30%)
Shinki grew wings, then charge to the targeted enemy hero and slows the target by 75% during the cast time. If the target still in range at the of cast time, they're banished together with her to the Realm of Monster for 7 seconds. In this realm, both of them will unable to escape and unable to Regen in the process. For the same duration, Shinki reduces the Target's current Atk Damage, Magic Power, Atk Speed, Max HP, Armor and Magic Res by 10%, in addition to gaining them for herself. If Shinki kills the target while inside, she keeps their partial stats until they respawn.
Note
If you're wondering why her level reach to 18 is because I'm making my own MOBA and I kinda a fan of Onmyoji Arena, the reason why like this because i need to make her more like the original game and i don't want her to be lacking like my previous Touhou Hero Concept collaboration
Her Ult is inspired by Mordekaiser from LoL